IBN Sina Medical College
IBN SINA Medical College, Affiliated with University of Dhaka, Largest Medical College. Largest Hospital High Patient Flow. Top Reputed Medical College, Modern Campus Heart of Capital City, In Campus Own Hostel & Library.
IBN SINA Medical College situated in the heart of Dhaka, IBN SINA Medical College stands as a beacon of excellence in medical education. Affiliated with the University of Dhaka, our institution offers an unparalleled MBBS program designed to foster the next generation of healthcare leaders.
Courses: At IBN SINA Medical College, we prioritize academic excellence, offering an MBBS program that combines rigorous coursework with practical experience in our state-of-the-art hospital.
Infrastructure: With cutting-edge lecture halls, advanced laboratories, a well-stocked library, and a fully-functional hospital for hands-on training, our campus provides students with an enriching environment to pursue their medical aspirations.
Admissions: We believe in nurturing talent. Our admission process evaluates candidates based on academic merit and our entrance examination's performance.
Authorized Consultant for Medical Colleges in Bangladesh:
About Us: Fortune Education stands as a trusted bridge between aspiring medical students and Bangladesh's top medical colleges. As an authorized consultant, our primary mission is to simplify the admission process for students and help them realize their dreams of becoming healthcare professionals.
Our Services:
Admission Guidance: Navigating the admission process in a foreign country can be daunting. Our team provides expert guidance at every step, from college selection to document verification.
Visa Assistance: We ensure a smooth visa application process for all our students, minimizing delays and complexities.
Accommodation Help: Find comfortable and secure accommodation options near your college with our assistance.
Partnerships: We are proud to be an authorized consultant for some of Bangladesh's leading medical colleges, including IBN SINA Medical College. Our partnerships ensure that students receive genuine information and a transparent admission process.
Contact Us:

FOR ADMISSION/SEAT CONFIRMATION & OTHERS PROCESSING CONTACT: FORTUNE EDUCATION, EXCLUSIVE AUTHORIZED REPRESENTATIVE, DHAKA, BANGLADESH- +8801995529533, INDIA: +919007862991
IBN SINA MEDICAL COLLEGE, DHAKA
The academic activities of Ibn Sina Medical college commenced through the admission of 50 students in 2004-05 academic session. Through the years up to 2017, 13 batches of total 759 students undertaken the course.
The college is affiliated with the University of Dhaka and recognized by Bangladesh Medical & Dental Council, the competent Authority of the Ministry of Health and Family Welfare.
The students of the 8th batch are now starting their internship in our own Hospital. The admission procedure of Session 2022-23 is now online. The admission is based on merit keeping in conformity with Government Order published and adopted by the Academic Council and adorned by the Governing Body of ISMC.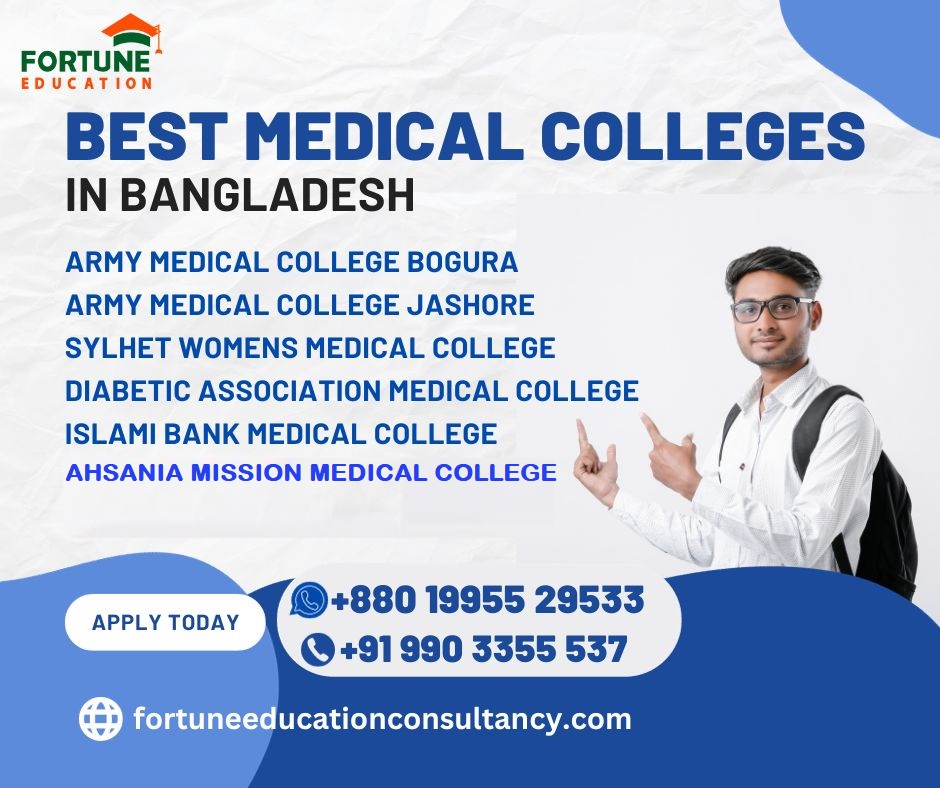 OBJECTIVES
1. To produce a doctor with high professional knowledge and skill.
2. To blend them with ethical values.
3. To teach bio-medical sciences with its recent advancements so that they can meet the present-day health care needs and challenges.
4. To produce a disciplined, motivated and enthusiastic doctor to instill the highest level of efficiency for caring patient with compassion and competence.
5. To provide wide knowledge of the community and economic conditions of the country imbuing them in value and nation to improve it applying professional antiquated, manners, and skills.
6. To inspire the development of essential human qualities, the strong sense of righteousness and basic ability to serve the suffering humanities irrespective of the economy, cast, religion, and strata.
SCOPE FOR FOREIGN STUDENTS
IBN SINA MEDICAL COLLEGE is now ready to receive foreign students for MBBS course, foreign students have to process through Embassy proceeding with the equivalence of their 0 & A Level from DGHS. We have safe and secure accommodation facilities for foreign students.
Apply Now
FOREIGN STUDENTS' ADMISSION PROCEDURE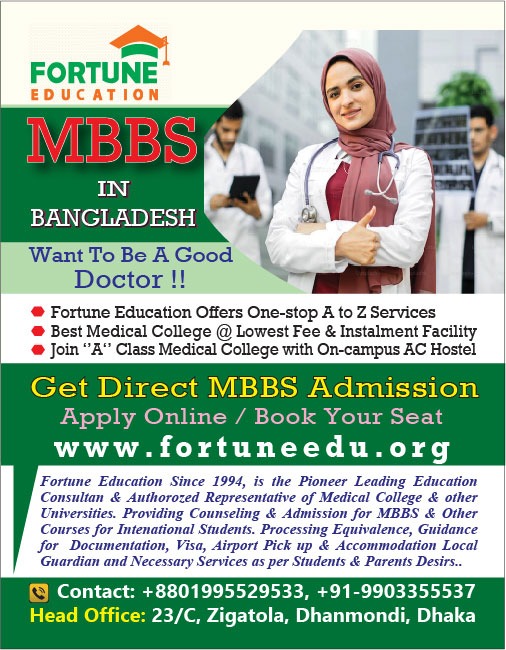 IBN SINA MEDICAL COLLEGE is now ready to receive foreign students for MBBS course. Foreign students have to apply according to rule and through the embassy of the respective country.
Students will have to collect equivalence certificate of S.S.C. (Class X) and H.S.C. (Class XII) from Director General of Health Services, Governments of the People's Republic of Bangladesh.
FEES FOR FOREIGN STUDENTS
For seat booking: By October: $5000
At the time admission : $11000
Amount will be payable June 2020 $5000, December 2020 $5000
Rest $14,000 will be paid in 8 installments at the rate of #1750 after six month interval
Dhaka University Registration fees $1000 payable at February 2020
Total: $40,000 (In word Forty thousand dollars) only.
The University examination fees are separate.
During which 5 years total Four University Professional examination will be held and approximately fees
Food & others personal expenses are excluded.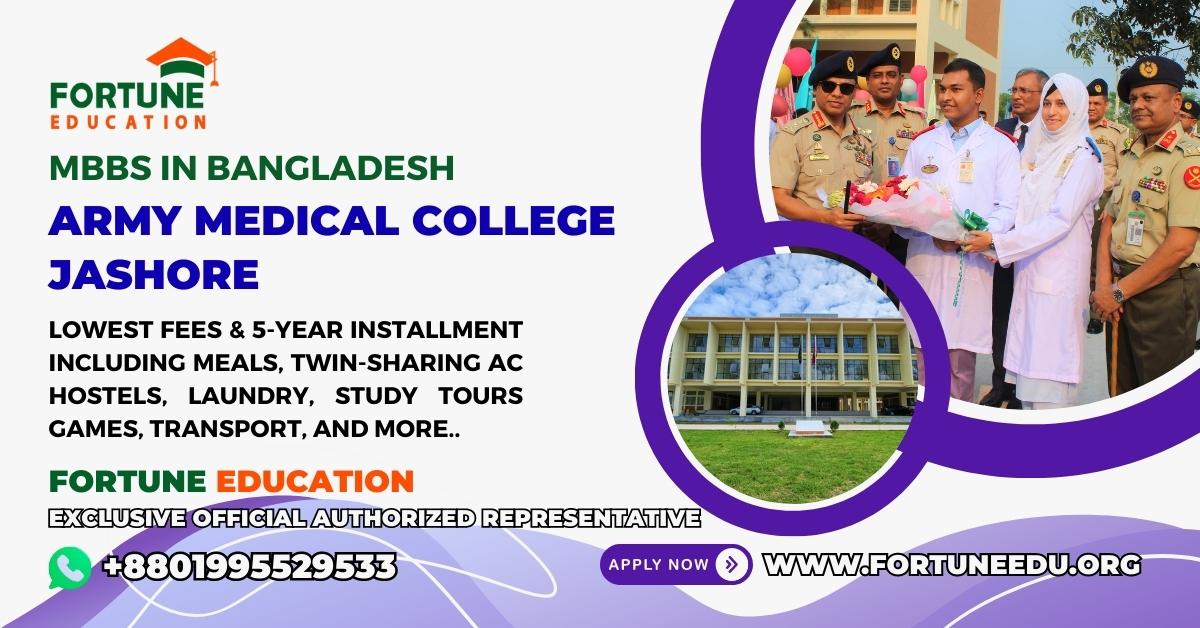 REQUIREMENTS FOR LOCAL STUDENTS IN IBN SINA MEDICAL COLLEGE
1. Students passing in S.S.C 2020-23 or after H.S.C 2018-2019 Session with total GPA of 9 but minimum GPA 3.5 in the biology of HSC are eligible to appear for admission 2019-2020 session.
2. Local students admission fees and other condition are as government policy.
Online /Direct Admission & Seat Confirmation
FORTUNE EDUCATION
HEAD OFFICE :
DHAKA, BANGLADESH.
MOBILE & WHATSAPP: +88-01995529533
OFFICES IN INDIA:
MOBILE & WHATSAPP: +91-9903355537